1. Install Aptoide Client in your device
(if it is not yet installed)
To install Applications from Aptoide you need to install Aptoide Client.
1.1 You can use one of the following ways:
- Download aptoide.apk and install it in your phone:
- Or scan this QR code with your Android device: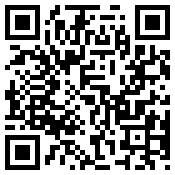 1.2 After the download is complete, go to the notification bar and press de application name (Aptoide.apk) to start installing Aptoide.
1.3 Click in "Install" button to finish Aptoide installation.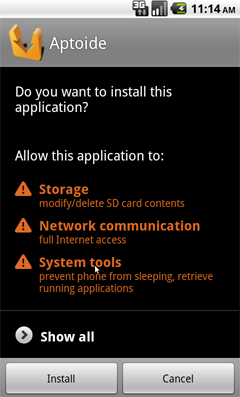 2. Browse through the applications and choose one to install
2.1 Access this application in Aptoide Mobile, by clicking here or scanning the QR Code below.
Tuner - gStrings Free
QR Code


Click the Install button!
Specifications:
Min SDK:
3
Min Screen:
Small
Supported CPU:
armeabi, armeabi-v7a, x86
Permissions:
android.permission.RECORD_AUDIO
Allows an application to record audio.
android.permission.INTERNET
Allows applications to open network sockets.
android.permission.ACCESS_NETWORK_STATE
Allows applications to access information about networks
com.android.vending.BILLING
Description:
gStrings - a chromatic tuner for the guitar, violin, or any other instrument.

This is the ad supported version of Tuner - gStrings, a chromatic tuner application measuring sound pitch and intensity.


It will let you tune any musical instrument (violin, viola, violoncello, bass, guitar, piano, wind instruments).


Features include:

1. orchestra tuning (shifting/redefining tone frequencies),

2. different temperaments (just, pythagorean, meantone, comma, etc.),

3. a variable range nonlinear scale,

4. microphone sensitivity setup,

5. pitch pipe,

and many more.


If you were looking for a guitar tuner, try it!


[NOTE]: the INTERNET permission is used for ads.
0

users LIKE this Android application
0

users DON'T LIKE this Android application
Tuner - gStrings Free
1